ANSI Lambda Attachment Chain Series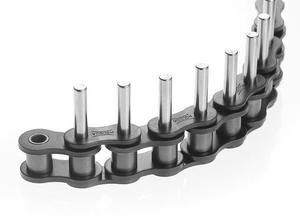 Tsubaki's Lambda chains were the first in the industry to use a special oil-impregnated bush. Since their launch in 1988, they have been adopted for diverse industries and applications, and their performance has been highly rated. Tsubaki has a wide lineup of lube-free, long life products that help customers reduce costs.
Technical Evolution
As a pioneer in the lube-free chain market, Tsubaki will reveal some of the key elements behind ANSI Lambda's outstanding performance:
Sintered Bush
A special oil-impregnated sintered bush in combination with a special coated pin for long-term internal lubrication is the secret of Tsubaki ANSI Lambda's long economic life and wear resistance.
Temperature and Lubrication
Tsubaki ANSI Lambda has outstanding performance in temperatures up to 150°C. For temperatures above 150°C Tsubaki has a special high-temperature ANSI Lambda available. Please contact Tsubaki for more detailed information.
For applications in the food industry, Tsubaki can supply ANSI Lambda chain with bushes impregnated with food grade lubricating oil (NSF-H1 and H3 certified).
When an application needs water wash downs or is exposed to moisture, and lubrication is not possible or desirable, Lambda N.E.P. is most efficient.
Advantages
Tsubaki has enhanced the ANSI Lambda with the following advantages:
Save Maintenance Costs
No expensive labour costs as it is not required to manually lubricate this chain.
Save Purchasing Costs
Lower frequency of purchasing due to the high quality of the chain and it's long economic life.
No purchasing of lubricants or lubrication systems necessary.
Higher Productivity
No unforeseen downtime due to chain breakdown.
Less time required for maintenance and therefore more time for production.
Environmental Friendly
Applications run clean thus reducing the risk of contaminating products, machines, floor etc.
Inter-Changeability
ANSI Lambda attachment chains are fully interchangeable with ANSI roller chains.
Chains:
The product range for our standard Lambda attachment chains is:
ANSI Single Pitch Lambda chain + standard attachments
ANSI Single Pitch Lambda HP Hollow Pin chain
ANSI Double Pitch Lambda chain
BS Single Pitch Lambda chain + standard attachments
BS Single Pitch Lambda RF chain with flat shaped link plates
Special attachments can be designed and manufactured to meet your specific requirements.
For more detailed information about the ANSI Single Pitch Lambda chain click here
For more detailed information about the ANSI Single Pitch Lambda Hollow Pin chain click here
For more detailed information about the ANSI Double Pitch Lambda chain click here