Timber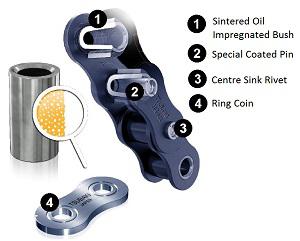 Automated sawmills require reliable machinery to continue operating in difficult conditions, even when lubrication systems seem to be at odds with the constant accumulation of sawdust and woodchips. However, many of the major Australian sawmill businesses found a solution in the form of Lambda chain that has significantly cut maintenance costs and improved productivity.
The operating conditions in any sawmill are tough for moving machinery due to the large amounts of airborne dust from the cutting and shaping processes. Most sawmills employ a variety of conveyor systems to transfer timber between each processing station and these rely on chains to do most of the heavy lifting.
Tsubaki's Standard Drive Chain Series, GT4 Winner and ANSI G8 are designed to operate and perform in such harsh conditions.
Tsubaki GT4 Winner Drive Chain Series
Tsubaki is proud to introduce the 4th generation, enhanced BS/DIN European premium chain. The product is available in chain sizes from RF06B up to RS48B*. Simplex, duplex and triplex executions are at your disposal.
Tsubaki Lambda Lube Free Drive Chain Series
Tsubaki's Lambda Chains were the first in the industry to use a special oil-impregnated bush. Since their launch in 1988, they have been adopted for diverse industries and applications, and their performance has been highly rated.